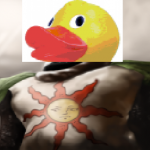 -Extremely capable editor
-Overlord of the DS Wiki
-Wise
-Knowledgeable
-Fair
-Inspiration for Red to become staff
-Solaire-Duck hybrid
-Dislikes duck puns
Mats is an extremely capable leader of the Dark Souls Wiki, is fair, listens to the community, lenient with most users.
10/10 user.
Ad blocker interference detected!
Wikia is a free-to-use site that makes money from advertising. We have a modified experience for viewers using ad blockers

Wikia is not accessible if you've made further modifications. Remove the custom ad blocker rule(s) and the page will load as expected.